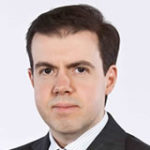 Ahmet Mücahid Ören
Chairman of the Board
---
Born in İstanbul in 1972, A. Mücahid Ören
graduated from Anadolu University, Faculty of
Economics. Between 1989 and 1991 he served
as IT Coordinator at Türkiye Newspaper, where
he helped it become one of the first Turkish
publications designed with computers. In
the same period, he served as Chief Editorial
Consultant at Türkiye Children Magazine. In
1991, he became the CEO at TGRT television,
working on the channel's infrastructure and
launch. Between 1993 and 2013, he served
as İhlas Holding's CEO and Vice Chairman.
In 2013, he was appointed Chairman of İhlas
Holding. A. Mücahid Ören has published
numerous articles, and is a member of various
international professional organizations and
think tanks including the International Academy
of Television Arts and Sciences, the Atlantic
Council, the Foreign Economic Relations Board
of Turkey (DEİK), the Turkish American Business
Council and World Economic Forum.